Intellectual Property In Europe – 5th edition
Now In Its 5th Edition.
Intellectual Property in Europe is a comprehensive and detailed guide to intellectual property law in Europe. It was first published in 1995. The fifth edition was published in July 2018.
Its chief author is Guy Tritton. Past contributing authors are Ben Longstaff, Tom St. Quintin, Richard Davis, Simon Malynicz, Michael Edenborough and James Graham.
It is published by Sweet & Maxwell (Thomson Reuters). It has become a well-established textbook for the practitioner, the academic and the student both in the United Kingdom and also in continental European countries. It is frequently cited by books, journals and by Advocate- Generals in the CJEU.
It is unique in its exhaustive analysis of international and European Union law as applicable in Europe. Because of the highly harmonised nature of IP law, it avoids a repetitive country by country analysis of laws but rather highlights differences that still remain.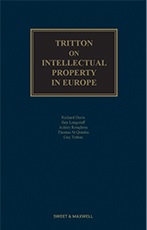 This book should be on the bookshelf of every practitioner dealing with intellectual property rights and should also be useful to the advanced student....this book is essential for all intellectual property practitioners and from the clearness and thoroughness of its exposition deserves to find a wider readership amongst government and industrial circles who are concerned with intellectual property right.
David Rogers, Member of Boards of Appeal, European Patent Office
Each topic this reviewer examined in the book was comprehensively covered....The book should be in the libraries of intellectual property firms or departments and will be useful for any in-house lawyer in a company with important IP rights.
Solicitors Journal, Susan Singleton